Check back soon!
Upcoming school dates to be announced.
United Pursuit wants to invite you to join our family for a life-changing experience: the United Pursuit School of Worship. We want to share with you our experiences and all we've learned over the past seven years as a community.

The calling - UP School of Worship is for innovators and collaborators, dreamers who are wild and passionate worshippers, ready to break through creative and personal barriers.
We believe - that music is a symptom, evidence of how deeply we've been moved by the love of God.
OUR FOCUS: COMMUNITY. CREATIVITY. WORSHIP.
Community – As family, we will discover together how our music emerges out of close relationships. By living together, we will facilitate a creative and spiritual "retreat" environment where students are encouraged and inspired by one another's lives, stories, and musical gifts.
Creativity – Together we will collaborate and learn from the United Pursuit team and university-trained creatives. Our goal is to equip each student with the musical, vocal, and lyrical tools that empower their unique sound and inspire new original songwriting.
Worship – We will experience powerful times of worship in God's presence, pursuing intimacy with the Father and one another. In doing so, each student will learn from the authentic expression of worship that United Pursuit has pioneered.
THE TEAM
MICHAEL & IVEY KETTERER– As part of the eclectic, ambient worship band United Pursuit, Michael leads worship that truly ushers in the presence of God. Him and his wife Ivey helped pioneer the UP community and are passionate about defining the church as family; a loving and healing home accessible to everyone (including their 5 children adopted from foster care).
TOMMY MURPHY – Tommy has a Master's in Music Composition at Azusa Pacific University. He has been the worship leader for Isla Vista Church, and has co-lead in other various church and home church gatherings. He is passionate about equipping worshippers with the fundamentals of music, adding an expertise to intuition. He himself is an inspiring songwriter and worshipper, which contributes to the relevance of his teaching.
THE RATLIFF'S – Spencer and Melody live in Knoxville TN continuing to develop the long built-upon community and explore its depths. Our heart is to be painfully real in the messy journey of learning to live as passionate believers in the real world and have fun doing it. The one goal is finding the center of Gods heart, no matter what that means.
KIERAN & BREE DE LA HARPE – Kieran and Bree moved from Sydney, Australia to Southern California in 2014. They have a heart to see individuals realize their full potential and walk out the calling God has placed on their life, in freedom and wholeness. They are also passionate about developing authentic community and seeing the whole body of Christ come together in worship and ministry.
NATHAN FRAY - Nathan is the co-founder and drummer for United Pursuit. He spends his time herding cats, aka working with artists, or helping friends launch their business ideas. When he's not in the office, you'll find Nate playing with his daughter or scheming ways to go surfing.
BRANDON HAMPTON - Brandon is a part of the United Pursuit core band. Having worn several hats including playing guitar, producing, writing, and being an artist himself he is devoted to encouraging the uniqueness in every creative he comes across. Brandon has served along side movements like IHOP-KC, and the United Pursuit community. Over the years he has also been with several worship artists such as: Jason Upton, Misty Edwards, Rick Pino, Kevin Prosch, and others.
Photos from the 5th school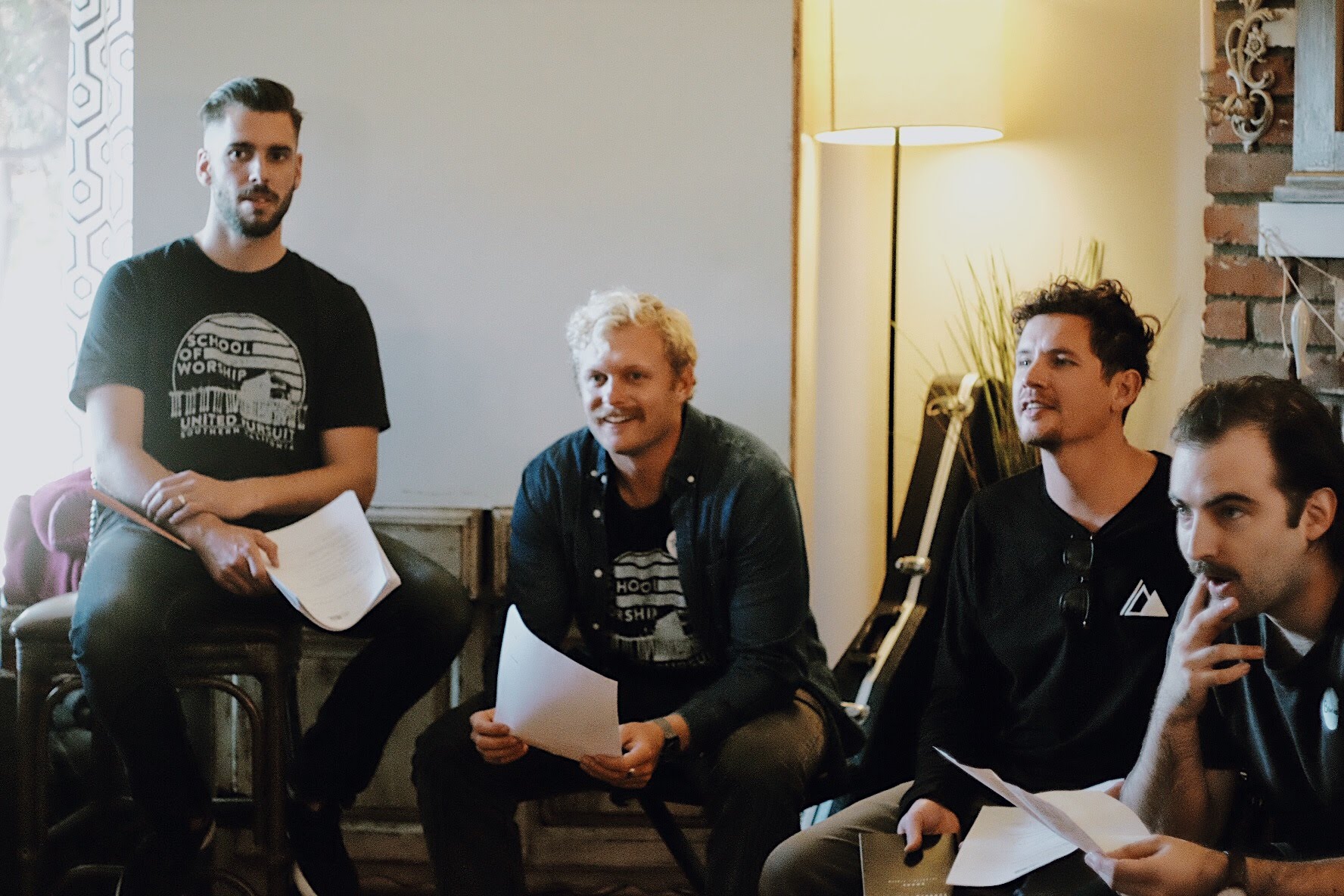 FAQ
"Can students from outside the US attend the school?"
For our international students, please contact Kieran de la Harpe at unitedpursuit.kieran@gmail.com for help coordinating travel.
"What's the minimum age for students?"
We love diversity in age and the benefits it brings to our experience. We will consider anyone over the age of 18.
"What's the school schedule look like?"
We like keep our students guessing:) The mystery of the schedule keeps us all engaged and brings a level of excitement. Our priority during this week is not to only teach and instruct, but to provoke a context for growth in relationship with each other.
"What are some of the topics the school covers?"
Major topics to be covered: growing in our identity, growing in the prophetic, prophetic-led worship, developing community, song writing, song production, recording process, the evolution of the business of music, growing in creativity.
"Is housing provided in the tuition? What will it be like?"
Housing is provided and is a huge part of the experience. We are renting several homes and the daily aspects of living and eating and worshiping together is a huge part of United Pursuits story that we are excited to share with you. Some may be asked to share a queen size bed with someone of the same sex. If this is an issue please let us know in your application.
"Is food provided? What will it be like?"
Food is also provided and It is our pleasure to cook delicious, healthy meals for our students. Home cooking and southern hospitality is a backbone of the United Pursuit community. Believe us, you will not be disappointed by each fresh meal prepared for you with love. If you have any diet restrictions please list them in the application.
"When is tuition required to be paid in full?"
We will accept payments no later than May 31st. Any issues regarding payment will be handled on a case by case basis. Note: all tuition payments are final - no refunds. For any payment concerns please email Tommy Murphy at unitedpursuit.tom@gmail.com
"Who can I email with a question not covered in the FAQ?"
Please email unitedpursuit.tom@gmail.com with questions.